PET-TABS®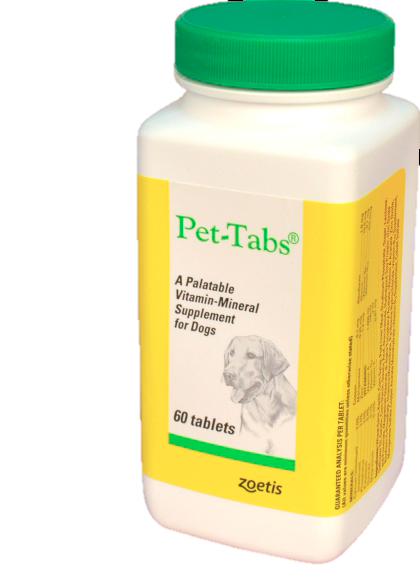 Composition: Each PET-TABS tablet contains 18 essential vitamins and minerals to balance and complete a dog's nutrition
Calcium 2.5 % (min) – 3.5 % (max)

Phosphorus 2.5 %

Potassium 0.4 %

Salt 0.1 % (min) – 0.6 % (max)

Chloride 0.1 %

Magnesium 0.15 %

Iron 3.0 mg

Copper 0.1 mg

Manganese 0.25 mg

Zinc 1.4 mg
Vitamin A 1,000 IU

Vitamin D3 100 IU

Vitamin E 2 IU

Thiamine 0.81 mg

Riboflavin 1.0 mg

Niacin 0.0 mg

Vitamin B6 1 mg

Vitamin B12 0.5 mcg
Indications:
Nutritious treat with conventional food

For pregnant & lactating bitches

For growing puppies & dog with special dietary needs due to advanced age, heightened activity levels or stress

During convalescence, chemotherapy & surgery.
Usage:
Puppies and Dogs under 5 kg: ½ tablet daily.

Dogs over 5 kg: 1 tab daily

Pet-Tabs are made with a special taste appeal. Administer by hand just prior to feeding, or crumble and mix with food.
Packaging: